ARES / RACES


OF CLEVELAND COUNTY, NC
Pardon our dust as we are updating this website. Thank you.
ARRL FIELD DAY IS JUNE 27 - 28 AT CLEVELAND COUNTY FAIRGROUNDS FIRE STATION!
IMPORTANT INFORMATION

LEADERSHIP
Susan Melvin, K4ZXN
Emergency Coordinator
Assistant EC's
Todd Vickery, WA4TV
Al Whatley, N4HAW
Chip Workman, N4SOC
Ben Melvin, KM4C
Bill Ware, KI4ZCT
ARRL Public Information Officer
Dewey Cook, KJ4BYU

Area 13 District EC
Ben Melvin, KM4C
SERVED AGENCIES
CLEVELAND COUNTY EMERGENCY MGMT
AMERICAN RED CROSS
NATIONAL WEATHER SERVICE
NC EMERGENCY MGMT
FEMA
KM SPECIAL EVENTS
OTHER MUNICIPALITIES
OTHER AREA ARES GROUPS
WE ASK THAT YOU TRY TO
ATTEND 50 % OF THE
MEETINGS TO MAINTAIN
MEMBERSHIP STATUS
AND TO KEEP TRAINING
UP TO DATE

All are invited, please come expecting to learn about Emergency Communications.

ARES of Cleveland County will meet

6/27-6/28/2015 (Field Day)
7/16/2015 (EOC Meeting)
No Meeting in August
9/17/2015 (EOC Meeting)
10/15/2015 (EOC Meeting)
11/19/2015 (EOC Meeting)
12/17/2015 (EOC Meeting)
TBA (Simulated Test)


EOC IN SHELBY 7PM
100 Justice Place
(Rear of Courthouse in Basement)
SHELBY AMATEUR RADIO CLUB
OUR SPONSOR
MEETS
THE SECOND TUESDAY EACH MONTH
7PM AT THE RED CROSS BLDG

(EXCEPT DECEMBER)

FREQUENCIES / NETS

146.880 (-) FM / PRIMARY
147.345 (+) FM / SECONDARY
444.325 (+) FM / OTHER
224.060 (-) FM / OTHER
145.080 (+ 1.4) DV / DIGITAL
444.1875 (+) DV / DIGITAL
SIMPLEX: SECONDARY OUTPUT ONLY IN THE
UNLIKELY EVENT ALL FOUR
SARC REPEATERS FAIL
NETS
MONDAY AND FRIDAYS AT 8:30 PM
ON 146.880 AND SUNDAY AT 9PM ON DSTAR 145.080
ONLINE TRAINING CLASSES
To Become a certified member of ARES the follow are REQUIRED FEMA COURSES
IS 100
IS 200
IS 700
IS 800
IS 802
C

LICK HERE

TO TAKE FOR FREE
EMAIL YOUR CERTIFICATE TO
k4zxn@yahoo.com
Optional Training
ARRL ARECC CLASSES

Certification means you will be able to work at the EOC, Shelters or Incident Scenes, should you be needed.

Non-Certification means you will be able to work from your home and at public service events.
FOR MORE INFORMATION
k4zxn@yahoo.com
Come on out and learn
from one another!
Lots of good information
to be learned from
local amateurs.

Members of ARES
are experienced in
all aspects/modes
of Amateur Radio

SARCLUB™ logo is a registered trademark of the Shelby Amateur Radio Club, Inc.






ARES OF CLEVELAND COUNTY WAS # 1 IN ARES
ACTIVITY IN THE SECTION IN 2008, 2009, 2010 and 2011.
Read about the 2010 Simulated Emergency Test Results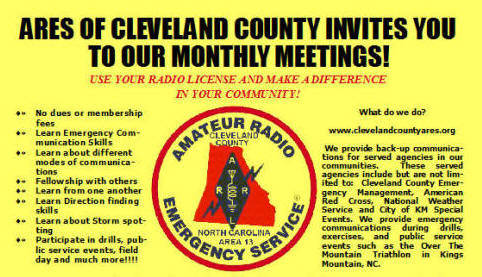 In 2007 , the Shelby Amateur radio Club decided to sponsor the Cleveland County Amateur Radio Emergency Service. The members of Shelby Amateur Radio Club have always played a very supportive roll in back up emergency communications within Cleveland County. Members of Shelby Amateur Radio Club had formed an ARES group in the prior decade and members of SARC have always been active in Cleveland County RACES since it's inception in the 1950's. You can find members of Cleveland County Amateur Radio Emergency Service very active in all aspects of amateur radio communications.

Today, you will find the Cleveland County ARES or Amateur Radio Emergency Service group involved in many endeavors. While the group is sponsored by the Shelby Amateur Radio Club, you do not have to be a member of SARC to join ARES. Members of ARES of Cleveland County are involved in public service communications and participate with the Shelby Amateur Radio Club in providing support communications for the Over-The-Mountain Triathlon in Kings Mountain annually. ARES of Cleveland County is affiliated with Charlotte AREA SKYWARN which is the official SKYWARN group for the Area and periodically holds training on the subject. The group participates annually in the ARRL Field Day with Shelby Amateur Radio Club and also participates each year in the ARRL Simulated Emergency Test ranking number one in the State in 2008. Members of the group are active on packet and many are also active in the National Traffic System or NTS. Members are also very active participating in foxhunts.

The ARES nets are Monday and Friday at 8:30PM on the 146.880 repeater owned and operated by the Shelby Amateur Radio Club. All are welcomed to check in with us! There is always a good friendly net control and lots of outstanding folks checking in to our nets.

If you would like to join ARES of Cleveland County, please visit us at a meeting on the last Thursday of each month (except November). Our meeting place is at the EOC in Shelby, North Carolina located at 100 Justice Place. The entrance to the EOC is on the Patton Street side.

2009 ARRL Simulated Emergency Test
October 3, 2009

Once again our group, Cleveland County Amateur Radio Emergency Service, had a very successful Simulated Emergency Test. We had over 30 Amateurs in the area check into the net with us. We appreciate all your support for the ARES of Cleveland County group (Cleveland County Amateur Radio Emergency Service). Our group was number one in the state last year for points. This year we did even better than last thanks to your hard work and dedication! The group used a D-Star Simplex Link between the Red Cross Headquarters and the EOC. This allowed for accurate passing of messages in the ICS 213 Format. A Direct link was established with the State ARES Net aka Tarheel Emergency Net on 3923. A local net was called on 146.880 with 30 amateurs checking in with net control. Net control Duties were shared by 6 operators during the 4 hour test. A couple of stations even worked PSK31 (one from home and one mobile) during the test. Stations simulated deployment to various shelters in the county and generated messages on behalf of served agencies to demonstrate the ability to pass messages to and from one another. The drill was a complete success, and a big pat on the back goes to everyone involved!

If emergency communications is something you are interested in then please visit an ARES meeting on the last Thursday of each month (except November).

OUR SPONSOR



Shelby Amateur Radio Club



NC Area 13



Western Branch
Skywarn® and the Skywarn® logo are registered trademarks of the National
Oceanic and Atmospheric Administration, used with permission.
ARES® / Amateur Radio Emergency Service is a registered trademark of the ARRL - American Radio Relay League.
This page was last updated on 06/14/2015
COPYRIGHT © 2014 - SHELBY AMATEUR RADIO CLUB AND SUSAN MELVIN
TO USE PHOTOS IN ANY OTHER DOCUMENT PERMISSION MUST BE OBTAINED FROM WEB DESIGNER. k4zxn@yahoo.com